RVA Voip RAM Truck, Richmond, Ashland, Mechanicsville, Glen Allen, Hanover, Henrico, Virginia

Richmond, Ashland, Mechanicsville, Glen Allen, Hanover, Henrico, Virginia

Vehicle Wrap, Richmond, Ashland, Mechanicsville, Hanover, Glen Allen, Virginia

Truck Decals and Lettering, Richmond, Ashland, Mechanicsville, Glen Allen, Hanover, Henrico, Virginia

Integrated, Richmond, Ashland, Mechanicsville, Glen Allen, Hanover, Henrico, Virginia

Aluminum Composite Sign, Richmond, Ashland, Mechanicsville, Glen Allen, Hanover, Henrico, Virginia

Process, Richmond, Ashland, Mechanicsville, Glen Allen, Hanover, Henrico, Virginia

Brilliant Signs and Graphics, Ashland, VA
Featured Products
Drive awareness and let customers and prospects know what you have to offer with custom decals. Decals can be more than just a company logo and they can do more than just make an impression—see for yourself.

Increase awareness, boost professionalism and leave nothing to chance with professionally designed business signs. From ADA signs to wayfinding signs and more, we can create any sign your business needs

From A to Z, we have the lettering styles and font choices to make a lasting impression. After all, quality lettering shouldn't just be for high school letterman jackets—we know it can be for anything and work anywhere.

Custom vehicle wraps and graphics are a great way to get your business noticed and quickly communicate what you have to offer.

Electrical Signs / LED Channel Letters

Restaurants, stores and many other business are frequent purchasers of Brilliant Signs and Graphics custom LED channel letters. This type of signage sets companies apart and can be custom made according to the desires of our customers.

It can be a real competition to get noticed at a trade show full of exhibitors. We're here to help you win. Stay top of mind with your customers and your prospects at your next trade show with a professionally designed trade show display.

If you can dream it we can do it. Every blank window, wall or floor is another opportunity to generate awareness and create new customers via environmental signage

Have a small budget and need to make a big impact? You need high-quality vinyl banners to get the most bang for your buck. Get started today!
How to Find the Right Candidate for a Job
Posted on 05/27/2019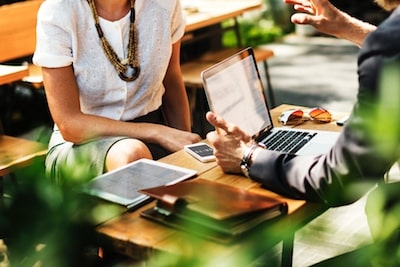 Steve Jobs once said, "It doesn't make sense to hire smart people and then tell them what to do; we hire smart people so they can tell us what to do." Whether you're a business owner, professional or even a low-level employee, chances are you might be asked to sit in on a job interview for the company. 
Sorting through applicants can often feel overwhelming—maybe even downright impossible. This person has a lot of experience, but didn't shine in their interview. That person might not have much experience, but did a great job on their practice project. How do you decide which person to bring on the team? Fortunately, there are a few tips to keep in mind. Here's how to find the right candidate for a job.
1. Did they do their research?
The first sign of a great candidate is whether or not they did their research on both the company and the position before coming to the interview. There's nothing worse than a candidate who walks into the interview without any knowledge of what they're actually applying for. Glassdoor says, "Informed candidates—those who have done their research on your company and the position in advance—make for high-quality hires." Gauge whether or not the client has done their research by asking specific questions on culture, products or services.
2. Do they ask great questions?
Another measure of a candidate's preparedness is the questions they ask. Good questions demonstrate an applicant who took the time to think through the interview, evaluate the company and is genuinely excited about the position. Give them an opportunity to ask their questions, then consider their responses to your answers. Great interview questions can even tell you about how a candidate thinks and whether they will be able to adjust quickly while working in the position.
3. Are they enthusiastic?
Of course, it's not just about what the applicant says; it's about how they say it. The ideal candidate should be as interested in the company as the company is in them. They should have an apparent enthusiasm and excitement about the position itself. If you can sense their interest in their body language, voice and demeanor throughout the interview, that's a great sign. Enthusiasm often indicates the applicant will stick with the position and the company for the long haul, rather than someone who just wants a job to get by.
4. Do they share their weaknesses?
Obviously, you want to understand a candidate's strengths during the interview process. However, it's just as vital for an applicant to recognize their weaknesses. Recruiters often talk about the "perfect" candidate, but the truth is, every applicant has flaws. The question remains: Will the candidate share their weaknesses honestly? A great applicant will discuss their flaws openly, then spin them back toward how they will overcome those flaws, work through them or turn them into strengths. 
5. How do they solve a scenario?
Some companies include a sample project during the interview process for candidates to complete and present before the interviewers. While this might not be possible at every business, it is a good idea to set a scenario for the applicant and see how they work through it. Present a proposed problem, project or issue for them to consider, and ask what their response would be. This gives you great insight into a candidate's approach to the job, regardless of whether or not he or she has experience.
Deciding who to hire can be an incredibly difficult and overwhelming process. However, there are a few ways to wade through the interviews. If you're in a position to hire, keep these tips in mind to find the right candidate for the job and build the best team possible.